Transaction Tracker
®
Transaction Databases

Keep up to date with your Listing and Purchase & Sale files all digitized through our online Transaction Tracker®. Important file information on Sellers & Buyers, Subject Property, Title and Escrow, Commission Instructions, Earnest Money Timelines and Inspections are all at your fingertips! Add progress notes and create an online file to reference copies of all of your paperwork. Brokers have a direct link to your transaction file for review and support. Track and review your online transactions by reviewing Broker's notes for requirements on maintaining your file.
Convenience is the key to having a virtual copy of all your files via the internet and to be able to send copies to your customers, clients, title, escrow, lenders and even the other agents at the click of a button. Transaction Tracker® alerts you as to the status of all your files right from the comfort of your very own Virtual Office! No need to pick up the phone to check the status of a file. Never miss another expiration or close date. The Transaction Tracker works in conjunction with your Scheduler to notify you of upcoming important file dates needing your attention.
File Histories
All previous transaction files are stored for quick reference at the click of a button. Our Document Viewer lets you view all past documents for any file on your screen instead of sifting through a folder. Your personal notes as well as Broker's notes remain in tact and dated for easy recall.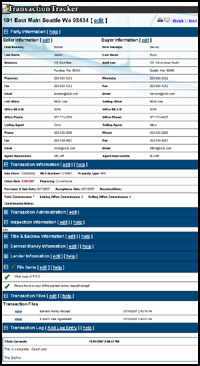 View all of your transactions online with Transaction Tracker
Moblie Office
Virtual Office On-The-Go
Your RE2K.com Mobile Office allows you to have access to your Message Center, Transaction Tracker, and other important information directly from your mobile device. No App needed.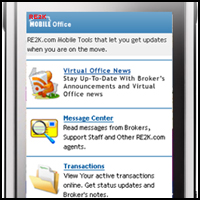 Scheduler
Appointments
Manage and maintain records for appointments within your Virtual Office using the Online Scheduler.
Notices
Receive automatic notices of Closing Sales and Expiring Listings pulled right from your Transaction Tracker database. Other important dates such as license expiration notice also gets posted to your scheduler.
Recurring Reminders
Keep track of recurring events.
To Do List
Stay on task with a to-do list able to keep track of items needing your attention. f you don't get them all completed, no worries, the remaining items automatically roll over to the next days list!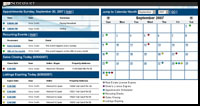 Organize your appointments with the online Scheduler
Online Address Book
Business Contacts
Add information for contacts that you frequently use for your business including: Contact name, phone numbers, email address, business name and contact notes.
Online Scheduler Integration
Create appointments in your online Scheduler directly from your address book.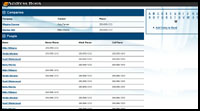 Manage your contacts in your online Address Book
Message Center
Messages
Don't miss important messages from the Support Staff or other agents. Everything from commissions' paid, associates' communications, transaction notices and more can be viewed right from your Virtual Office. You can also archive your messages once completed for future recall.